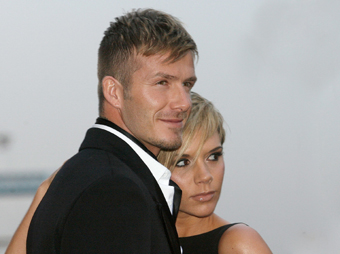 Soccer player David Beckham and his wife Victoria arrive for the Sport Industry Awards 2007 at Old Billingsgate in central London March 29, 2007.[Reuters]
Former England captain David Beckham won the Outstanding Contribution to British Sport accolade at the 2007 Sport Industry Awards on Thursday.
The Real Madrid midfielder, who will join Los Angeles Galaxy at the end of the European season, received his award from Arsenal's French striker Thierry Henry and 2012 London Olympics chairman Sebastian Coe at a ceremony in central London.
Tributes flowed for Beckham's contribution to British sport.
"In a world where celebrity comes too easily, David deserves his fame," said Prime Minister Tony Blair.
"He's been a huge cultural icon for our country but most of all he plays football brilliantly and whenever he wore the England shirt, he wore it with pride."
将本页收藏到:
上一篇:NBA stopover adds to Shanghai credentials
下一篇:Yao helps Rockets overcome Lakers